Should You Rent or Own?
This calculator will help you figure out if you will be better off renting or owning a home.
How Much Home Can You Afford?
Find out how much your mortgage payments should be.
Mortgage Payment Calculator
Have you found a home you'd like to purchase, but wonder what your payments will be?
15 Year vs. 30 Year Mortgage Calculator
Find out which is better for you.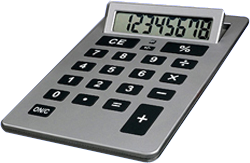 Refinancing Calculator
Should you refinance your current mortgage?
Equity Calculator
How much equity do you have on your current home loan?
FHA Loan Calculator
Can you qualify for an FHA loan?
Monthly vs. Biweekly Payment Calculator
Find out how biweekly payments affect your mortgage.
Points vs. Interest Calculator
Which Loan is Better?
Both of these calculators compare two mortgages: one with a lower interest rate, and one with fewer points.
Closing Cost Calculator
Estimate your closing costs here.